Sixteen-year-old Christel Khalil had a pimple on her forehead.
This is certainly not unusual for a teenage girl, but Christel was preparing for a special event: As the troubled Lily Winters on the CBS daytime drama The Young and the Restless, she was about to attend the 2004 Daytime Emmy Awards, where she was nominated in the category of Outstanding Younger Actress.
"I can't have pimples for the Emmys!" she wailed to her mother.
Like Christel, almost all teens are obsessed with their hair, skin and makeup, and a single imperfection can ruin an evening. Born and raised in Los Angeles, the 5´3" actress has luminous brown eyes and luxurious long brown hair, which she usually wears loose and curled—often with distinctive crimping.
Being in the spotlight can create undue stress for adolescent actors like Christel, who first became recognizable for her guest roles on TV shows like That's So Raven! and Family Matters, as well as parts in films like Matilda and Dragon Fury. But Christel understands that her celebrity allows her to serve as a role model for other teens, especially when playing a character who must cope with mother-daughter strife, boyfriend worries and sexually transmitted diseases.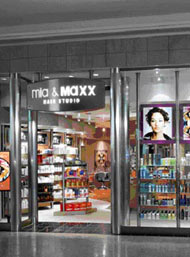 Photo Courtesy of Mia & Maxx Hair Studio.
As teens transition to adulthood, parents need to give them more leeway, even though they may feel reluctant to relinquish control, Christel stated in an interview for CBS. "If you just keep holding them back so hard, when they finally are free, and you can't hold them anymore, and they turn 18, they're just going to go crazy," she stated.
Renae Bertucci agrees. She serves as an artistic director for Mia & Maxx Hair Studio, a U.S. chain of energetic "street chic" salons that cater to a unisex clientele of teens and young adults. Most of her clients are in their early teens to mid-20s.
Stylists—and parents—should be open to teens' ideas, she asserts.
"Teenagers are excited about trying different things," says Bertucci, who has worked as a stylist for five years. "They're willing to change styles and not get in a rut. If an idea doesn't work, you don't want to say, 'That will be disgusting!' You want to find a compromise that works for everyone."
When working with teens, Bertucci finds that girls ask for styles they see on magazine covers (Christina Aguilera's recent Elle cover was a popular request), as well as their own creations: elements of one photo, combined with details from another photo, and perhaps snippets of a third. Some teens start to color their hair as early as age 13, but Mia & Maxx policy requires parental consent. Current trends include softer looks for formal occasions like proms, extremely bright hair colors like red and pink, soft highlighting (semi-permanent), medium and longer lengths, and braiding.
To create Christel Khalil's polished look, the secret weapon is a curling iron. Shampoo and condition hair, as usual. Towel-dry it to absorb excess moisture, and let hair air-dry. Apply styling gel and wind individual strands around the curling iron's barrel to crimp hair. Gently separate strands with your fingers for definition. Apply a gloss spray to add shine.
For a creative shortcut, create a dozen or more braids when hair is still damp, and allow them to dry. Undo each braid, and you'll have the natural crimps a curling iron would produce.
All Rights Reserved. Copyright© 2006-22 HairCutAdvice.com